Family space remodels and additions everyone will enjoy.
"Quality construction and a healthy regard for your house"
We are guests in your home, so we know how to work fast, neat and with careful regard for our surroundings. We also know you want a quality job with the best materials for the money and experienced professional installation. And when we're finished you want to be wowed.
The bottom line on indoor remodeling is that the project must improve the function as well as improve the look of the space
Using a space for more than one purpose requires a good design and masterfully built construction.  But if well done, the result can be stunning and literally bring a fresh ray of sunshine into your home.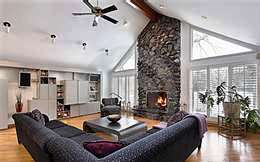 Build something breathtaking in the heart of suburbia
Yes, home spaces can be transformed into something unique and special.  If you have the vision, we have the talent to bring your dream to fruition.  Designing and constructing interior space additions that really mean something to the homeowner is our specialty.

Browse This Houzz catalog for some ideas
Browse Furniture on Houzz- For Example: